Hyaluronic acid is often referred to as a holy grail skincare ingredient or a miracle hydrator. The ingredient is naturally occurring in the body and helps your joints function properly. In skincare, hyaluronic acid draws in water and helps it absorb into the skin to create a plump, youthful appearance. While hyaluronic acid isn't a skincare ingredient that is explicitly good or bad for acne, it can definitely help nourish the skin to address common acne causes and nourish the skin's protective moisture barrier. Let's discuss it a little more:
What is hyaluronic acid?
The name can be confusing because it contains the word "acid" but hyaluronic acid is far from what most people would associate with an acid. Where many acids help exfoliate skin, hyaluronic acid is a naturally occurring lubricant found in our bodies that helps our joints maintain their movement function. It helps cells migrate, assists in the healing process, and helps the body form new blood vessels. Hyaluronic acid is a key molecule in the body's ability to retain water, and can help your skin fight signs of aging. This is why hyaluronic acid is found in nearly every moisturizer.
Learn More: How Hyaluronic Acid Benefits Skin
Who is hyaluronic acid good for?
Most acids in skincare products can cause irritation, such as ascorbic or glycolic acid. Fortunately, hyaluronic acid does not carry the same issues as those other common acids. Due to its natural presence in the human body, it does not have any allergenic properties. Hyaluronic acid can be used by any skin type, making products like SkinMedica's HA5 Rejuvenating Hydrator a great option for anyone. Regardless of whether or not you have flaky skin that becomes irritated by chlorinated pool water, rough skin from long days of work in the skin, or perfectly healthy skin, hyaluronic acid products will provide extra hydration to your body.
What does hyaluronic acid do?
Hyaluronic acid provides a vital role in skincare—it hydrates your skin. It's important not to confuse this with moisturizing though. Moisture in the skin refers to lipids and fats, which is why moisturizers contain oils such as coconut oil, argan oil, or even various plant and fruit extracts such as grapefruit or lemon oils. That said, this ingredient does assist in fortifying the lipid barrier of our skin, which is the fat barrier that keeps external toxins and substances out.
Hyaluronic acid is what is called a humectant, meaning it's great at bonding with molecules. It is said that it can hold up to 1000% its weight in water! This provides many benefits, such as tightening the elasticity of your skin, providing a smoother texture, smoothing out wrinkles, and assisting in smoothing out pigmentation issues with the assistance of other molecules like vitamin C. The Elta MD AM Therapy Facial Moisturizer covers those bases and leaves your skin feeling rejuvenated for the start of your day.
Can you use hyaluronic acid every day?
You should use hyaluronic acid twice a day! It's a gentle ingredient that helps the skin stay hydrated, which is an important step in maintaining healthy skin. Since it's a molecule you naturally produce, your body has no trouble absorbing it this often. Finding a good moisturizer that you can apply this often, leaving no greasy feeling, is important for this purpose. ClarityRx's Feel Better moisturizing cream does exactly that, making it an excellent tool for keeping your skin well hydrated.
Is hyaluronic acid good for acne?
Acne is often caused by clogged pores and dry skin, usually when the skin's lipid barrier is weakened, which can be caused by poor diet, poor skincare, or bathing in water that is too hot which will remove all the oils from your skin. Hyaluronic acid helps the skin's lipid barrier and hydrates dry skin, while also smoothing the pigmentation caused by acne. This visibly reduces the appearance of acne. In addition, this miracle molecule also helps in the maintenance of healthy sebum protection, which can help with the unclogging of pores blocked by excessive sebum. Some acne is caused by a hormonal imbalance, though, so if you find that topical products are not helping your acne, we recommend talking to a dermatologist or doctor.
Learn More: Skin Care Regimen for Acne Prone Skin
In the case of acne scars, hyaluronic acid can assist active ingredients like a retinoid with the clearing up and treatment, but can't do it alone. It doesn't directly treat acne, but it does treat many of the underlying causes. That said, there are some questions of whether or not hyaluronic acid can cause acne itself. This is usually a cause of other ingredients in skincare products, and not a function of the ingredient itself.
We recommend doing a patch test before regularly using any product, especially for those prone to acne or for those with sensitive and dry skin. For example, Elta MD's UV Clear Tinted Broad Spectrum SPF 46 sunscreen provides both hyaluronic acid and niacinamide, both of which help clear up and protect your skin, but some could find that niacinamide irritates their skin as well. Hyaluronic acid is not known to cause acne on its own, but it could be found in products that cause acne in other ways.
What ingredients can I use with Hyaluronic Acid?
Because hyaluronic acid is very gentle, it can be used alongside any other ingredient. It will even help prevent irritation which could be caused by other ingredients, such as ascorbic acid or retinoids. If you look at your current skincare products, you'll probably find some form of it in the ingredient list. Feel free to combine any products with others that contain this wonderful molecule and reap the benefits of hydrated, youthful skin!
Learn More: What Ingredients Should Everyone Have in Their Skincare Routine?
Hylauronic acid is a key ingredient in achieving healthy, glowing skin. We recommend trying the ingredient out on its own in a serum, or as part of another product. There are tons of great hyaluronic acid products available at DermWarehouse, and you can check out a list of them here.
Shop More Hyaluronic Acid Products We Love!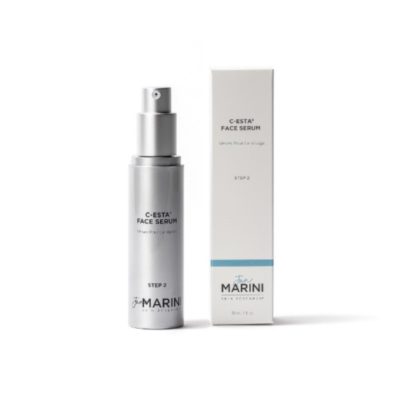 An antioxidant-packed face serum fights free radical damage and minimizes signs of aging on the skin.
Clinically shown to outperform other leading Vitamin C serums
Smooths out complexion by reducing wrinkles and skin texture
Fights against free radical damage, leading to more youthful skin