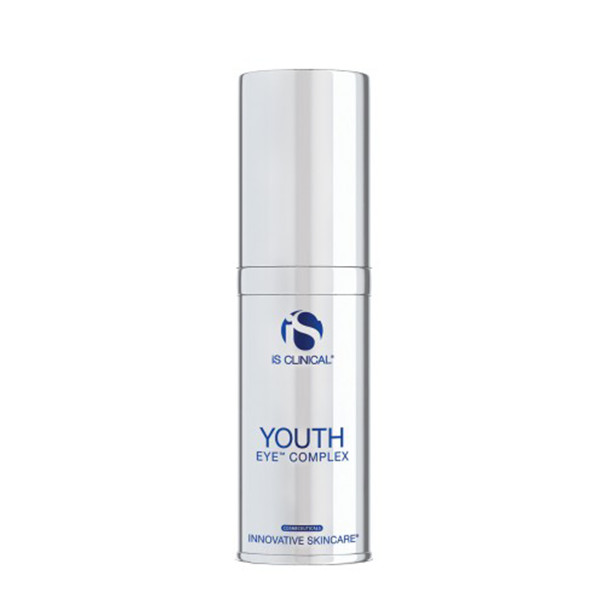 iS CLINICAL Youth Eye Complex (0.5 OZ.)
$105.00
An anti-aging eye treatment that targets fine lines, puffiness, and dark circles.
In stock
Compare
SKU:

1315.015

Categories: Acetyl Octapeptide-3, Anti Aging, Best Sellers, Best Sellers, Copper Tripeptide Growth Factor, Cream, Crepey Skin, Crow's Feet, Dark Circles/Under-Eye Bags, Eye Cream, Eyes, Fine Lines & Wrinkles, Hyaluronic Acid, Hydrating, iS Clinical, Mature Skin, Moisturizers, Paraben-Free, Post-Procedure Skin, Pre-Procedure Skin, Professional Strength, Pseudoalteromonas Ferment Extract, Safe for Pregnancy/Nursuing, Skin Care, Smoothing, Travel Size, Treatments & Serums, Unisex
iS CLINICAL Youth Eye Complex is a breakthrough formula that utilizes "intelligent proteins" to combat the signs of aging. These proteins are clinically proven to target damaged sites and as a result, skin is stronger and better able to resist damage. Powerful peptides, key growth factors, and potent antioxidants rapidly reduce the look of wrinkles, puffiness, and dark under-eye circles to keep skin moist, smooth and protected all day long.
HIGHLIGHTS

Professional strength
Provides penetrating hydration
Reduces the appearance of fine lines and wrinkles (including crow's feet) and dark under-eye circles
Provides both immediate and long-term improvements

AGE/GENDER
BENEFITS
CONCERNS

Anti-Aging
Fine Lines & Wrinkles
Crepey Skin
Crow's Feet
Under-Eye Circles

INGREDIENTS

Acetyl Octapeptide-3
Copper Tripeptide Growth Factor
Hyaluronic Acid
Pseudoalteromonas Ferment Extract

INGREDIENT PREFERENCES
PRODUCT TYPE

Moisturizers
Treatments and Serums

FORMULATION
SKIN TYPE

Mature Skin
Post-Procedure Skin
Pre-Procedure Skin

APPLICATION AREA
SIZE
Good for mature, aging skin
Reduces periorbital fine lines and wrinkles (including crow's feet)
Helps lighten dark under-eye circles
Provides penetrating hydration
Improves firmness and elasticity
Provides antioxidant protection
Provides immediate and long-term improvements
Excellent for lip area
Apply a small amount (half pump per application) with the ring finger by gently tapping into the skin around the eye
Can use both AM and PM
Sodium Hyaluronate, Acetyl Octapeptide-3, Pseudoalteromonas Ferment Extract (Pseudoalteromonas Ferment), Hyaluronic Acid Microspheres, Hydrolyzed Wheat Protein, Hydrolyzed Soy Protein, Copper Tripeptide HGF Growth Factor, Glycosaminoglycans, Centella Asiatica Extract (Centella Asiatica), Retinyl Palmitate, Ascorbyl Palmitate, Pantothenic Acid, Phytonadione, Dipotassium Glycyrrhizate
Reviews