DerMend Fragile Skin Moisturizing Formula Cream (4.5 FL. OZ.)
$29.99
A moisturizer that helps repair skin elasticity.
In stock
Frequently Bought Together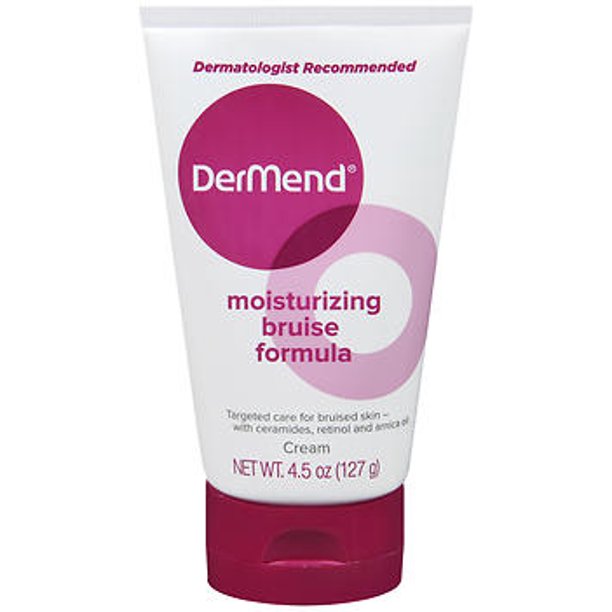 Oops! Please select at least one of the products below to add the items to your cart.
This product:
DerMend Fragile Skin Moisturizing Formula Cream (4.5 FL. OZ.)
$

29.99
Product Description
DerMend Fragile Skin Moisturizing Formula Cream provides targeted care to help restore thin, fragile skin with rejuvenating ingredients and enriching moisturizers. As we mature, our skin loses elasticity. Many factors, including repeated sun damage, cause elastin and collagen under the skin's surface to break down. The protective fatty layer of tissue also depletes, making skin much thinner and more fragile. This can cause skin to tear easily and also appear wrinkled or crepey, especially areas that have been exposed to the elements more frequently.
| | |
| --- | --- |
| SKU | 0584-14 |
| Brand | DerMend |
| PRODUCT TYPE | |
| Product Consistency | |
| Concern | |
| Benefits | |
| Skin Type | |
| Application Area | |
| Ingredient | |
| Ingredient Preferences | |
| Gender | |
All Skin Types
Mature Skin
Provides targeted care to help restore thin, fragile skin
Rejuvenating ingredients and enriching moisturizers
For best results, use twice daily or as directed by your physician to rejuvenate and help restore fragile mature skin.
Sunburn Alert: This product contains an alpha hydroxy acid (AHA) that may increase your skin's sensitivity to the sun and particularly the possibility of sunburn.
Use a sunscreen, wear protective clothing, and limit sun exposure when using this product and for a week afterwards.
Water, Glycolic Acid, Caprylic/Capric Triglyceride, Polyacrylamide, Glyceryl Stearate, PEG-100 Stearate, Glycerin, Ethylhexyl Palmitate, Palmitoyl Glycine, Cichorium intybus (chicory) root extract, Allantoin, Retinol, Caprooyl Phytosphingosine, Salicyloyl Phytosphingosine, Caprooyl Sphingosine, Ceramide AP, Ceramide EOP, Ceramide EOS, Ceramide NP, Ceramide NS, Niacinamide, Sodium Hyaluronate, Tocopheryl Acetate, PCA Dimethicone, Cetyl Alcohol, Cholesterol, Disodium EDTA, Ethyl- hexylglycerin, Phenoxyethanol, Stearyl Alcohol, Ceteareth-25, Ammonium Glycolate, Petrolatum, C13-14 Isopara n, Laureth-7, Polysorbate 20, Behenic Acid
This product currently has no public questions or answers. You can submit your question below to get a direct response from one of our staff members!
Submit a question about DerMend Fragile Skin Moisturizing Formula Cream (4.5 FL. OZ.)
Once you submit your question, our customer service team will get back to you via email with an answer. We will select some Q&A's to post on product pages but will not include your name or email address in these questions.
4 weeks ago
It didn't work for my skin
1 month ago
This is a great product! It's all I use on my face and neck twice a day. I was new to CPAP machine (70 y/o) and my face was chapped and red often from the mask. Now, my face is never like that. I think my wrinkles look better too. Skip all the expensive creams and try this!
2 months ago
just started using this skin moisturizer and it makes my fragile skin very supple
3 months ago
I gave it a three star rating, because I haven't used it long enough to get or see results. The Cream is thick and creamy and does spread nicely though, so hopefully it will accomplish what it says it will.
3 months ago
This product has vastly improved the skin on my forearms from brushing and skin tears.
3 months ago
Feels nice. Absorbs in immediately with no greasy feel. Impossible to know how well it works without prolonged use.
3 months ago
Easy to apply but haven't seen results but told May take 2-3 months. Whisk it came in larger bottles
4 months ago
This product was recommended by my dermatologist. It has been great for my fragile skin giving it a less crepey appearance. It also feels good on the skin and not too heavy. I love it!
4 months ago
All we can say is this stuff works, great improvement's on arms
5 months ago
This is the only product I've found that not only helps protect my fragile skin, but also helps the bruises heal quickly. Amazing.
5 months ago
My skin was so fragile that it would tear with the smallest scratch. Since I've been using this I can already see the difference in the healthier skin.
6 months ago
DerMend fragile skin moisturizing cream is truly hydrating my skin. The older I get, the dryer my skin becomes. This lightweight, non greasy formula has made my skin soft and supple!! Truly transformed my skin ❤️
7 months ago
An excellent product that's easy to use.
10 months ago
works very well on my legs - recommended by my dermtologist
11 months ago
Insufficient time to truly evaluate product however, skin does feel and appear better hydrated AND seems more resistant to minor contusions.
1 year ago
it works well and that is all I need to know. Nancy Snyder
1 year ago
I works very well especially on my lower legs. It was recommended by my dermatologist.
1 year ago
my skin is so thin and fragile, this lotion really helps with that.
You may also like…
DEJ Daily Boosting Serum contains patented industry first Sunflower Sprout Extract Technology, which boosts cellular energy to allow the skin to function in a more youthful way.