Senté Dermal Repair Body Cream (177.4 mL)
$110.00
A repair body cream for visibly toned-looking skin in 8 weeks.
In stock
Frequently Bought Together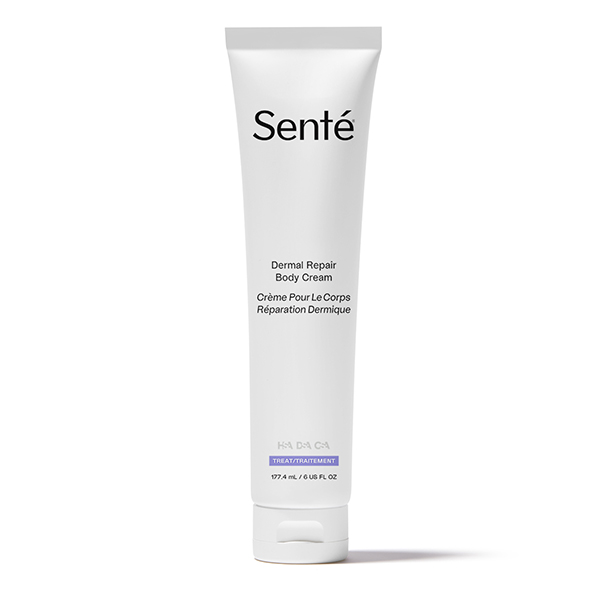 Oops! Please select at least one of the products below to add the items to your cart.
This product:
Senté Dermal Repair Body Cream (177.4 mL)
$

110.00
Product Description
SENTÉ Dermal Repair Body Cream with Heparan Sulfate Analog Technology + Skin Firming Duo Dermatan Sulfate Analog & Chondroitin Sulfate Analog + Unique Lipid Blend + Ceramides + Arnica
A deeply nourishing and renewing body cream for visibly toned-looking skin in 8 weeks. What it is: A deeply nourishing, repairing cream that delivers lasting moisturization and improves skin hydration for visibly smoother, more toned-looking skin.
Why it's special:
Formulated with patented Heparan Sulfate Analog (HSA) technology to boosts the skin's immune response to inflammation and promotes repair from within
Skin-firming duo technology Dermatan Sulfate Analog (DSA) + Chondroitin Sulfate Analog (CSA) supports the skin's capacity to protect and produce new collagen fibers for visibly younger and firmer-looking skin
Contains Ceramides and a Unique Lipid Blend that helps protect and restore skin's barrier function and delivers lasting moisturization.
The soft, nourishing formula leaves skin deeply hydrated and smooth
| | |
| --- | --- |
| SKU | 58353 |
| Brand | Senté |
| PRODUCT TYPE | |
| Product Consistency | |
| Concern | |
| Benefits | |
| Skin Type | |
| Application Area | |
| Ingredient | |
| Ingredient Preferences | |
| Gender | |
| Complete Your Regimen | |
Nourishes skin to deliver lasting moisturization.
Improves skin hydration.
Promotes visibly toned-looking skin.
Improves skin smoothness
Apply once or twice daily to desired areas.
Heparan Sulfate Analog Dermatan Sulfate Analog (DSA) + Chondroiton Sulfate Analog (CSA) Lipid Blend Ceramides Arnica
Aqua/Water/Eau, Caprylic/Capric Triglyceride, C12-15 Alkyl Benzoate, Glycerin, Cetearyl Alcohol, Argania Spinosa Kernel Oil, Heparan Sulfate, Acetyl Glucosamine, Ethylhexyl Palmitate, Glyceryl Stearate, PEG-100 Stearate, Potassium Cetyl Phosphate, Cyclopentasiloxane, Dimethicone, Butylene Glycol,Tocopheryl Acetate, Tocopherol, Sodium Hyaluronate, Camellia Sinensis Leaf Extract, Chenopodium Quinoa Seed Extract, Acrylates/C10 30 Alkyl Acrylate Crosspolymer, Aminomethyl Propanol, Sodium Benzoate, Sorbic Acid, Potassium Sorbate, 1,2-Hexanediol, Caprylyl Glycol, Phenoxyethanol, Disodium EDTA
This product currently has no public questions or answers. You can submit your question below to get a direct response from one of our staff members!
Submit a question about Senté Dermal Repair Body Cream (177.4 mL)
Once you submit your question, our customer service team will get back to you via email with an answer. We will select some Q&A's to post on product pages but will not include your name or email address in these questions.
You may also like…
A serum that combines retinoids with HSA technology to encourage firmer, smoother skin.
Safe for sensitive skin
Reduces redness and dryness
Fights signs of aging